How to Stand Out in School
You know the kids in school who are "cool" or interesting — what is it about them that makes them stand out? If you'd like to stand out and be noticed — in a good way, of course — here are a few tips.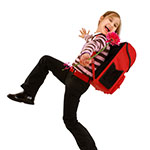 Build up your confidence. Everyone feels a little insecure at times and just knowing that should help you feel more confident already! Practice being great at something you already enjoy, like playing soccer, singing or drawing. When you have a specialty, people will notice.
Be positive. When life hands you lemons, make lemonade. There's always more than one way to look at a situation — so, choose to look at the sunny side. Your body language can reflect your positive attitude. When you're walking down the hall, stand tall, look people in the eye and smile. A simple smile is a friendly gesture that invites more people to talk to you and get to know you.
Be a leader. You can stand out by getting involved in class and after-school activities.
In class, raise your hand. If you don't know the answers, you can always ask a question. To stand out, you have to participate. And that doesn't mean acting out by clowning around and distracting the class!
After school, join a club or a sport team. Share your ideas. Maybe one of those ideas will be so popular, you'll be able to lead the group.
When you're hanging out with your friends, think of something you'd like to do. If your friends are like you, chances are they'll like your idea and follow your lead.